What's a girl's best friend?
It used to be diamonds, a sea of shoes, shelves of branded handbags, gorgeous sheer laced dresses, or even that deadly love-hate relationship with chocolate.
But I'd say not anymore. With
Vaseline's
launch of new skincare lotion, its about time we women (and men) look at what's ''really'' best for our skin.
Our skin gets destroyed easily by over-exposure to the sun, lack of water, or even from being in an air-conditioned room for too long!!!
Do you want back your old baby bottom skin? How in the world can you get back that lovely fluffy smooth texture?
Well, you can do that by purchasing from Vaseline's range of moisturizing lotions ranging from

Aloe Fresh

,

Total Moisture

,

Healthy White

, and

Intensive Resue

!!

I've bought two of the above to try out, and I must say I'm nothing short of impressed.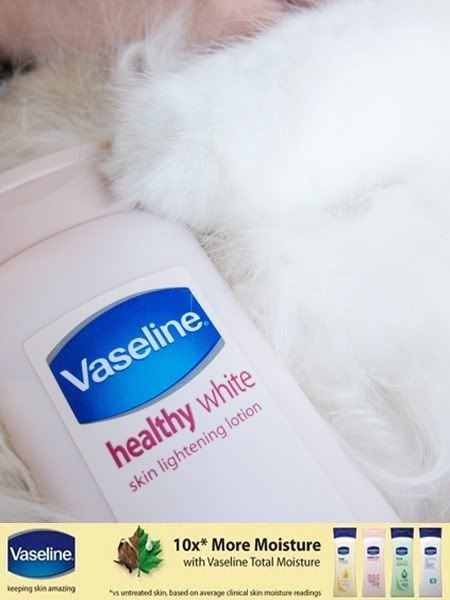 Healthy White:
- skin lightening lotion
- at the same time, ensures that your skin is fully moisturized
Total Moisture:
- slightly more moisturizing than healthy white
-contains that essential Vitamin E that works as an anti-aging agent reducing wrinkles and fine lines!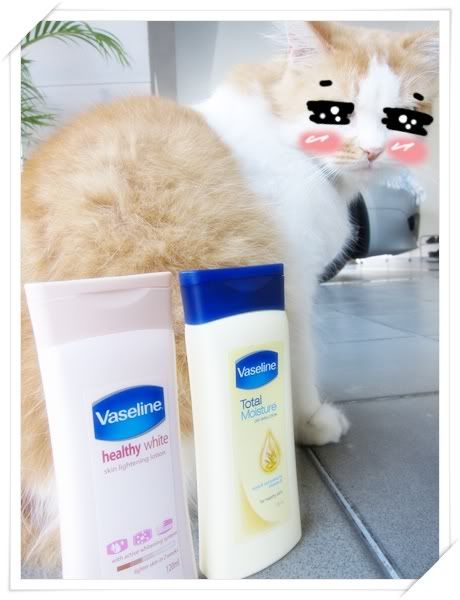 See even Kitty is mad happy about my purchase!!
♥ ♥
But WAIT!!
When's the best time to apply moisturizer?
A: Moisturizers work its best right after a shower, when the skin's pores are open and supple, making it soak up all the goodness in a moisturizer 5 times more easily than normal.
Its best as well to apply it at night before you go to bed, especially so if you sleep in an air conditioned room.
Now with Vaseline, dry skin is the least of my worries when I wake up in the mornings. Long gone are the terrible days of white skin flake lines over my arms and legs.
I can now sleep better with Vaseline!!
And there's absolutely no excuse for you lazy bums to not bring around your lotion saying its too heavy to bring that damn bottle on vacations. That's because Vaseline has been smart enough to also create travel-friendly bottle sizes!!
So ladies and germs, get your very own Vaseline today!! Save your skin before its too late!!!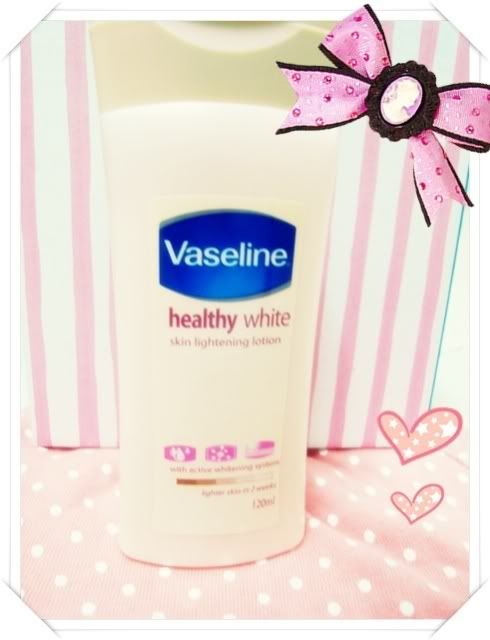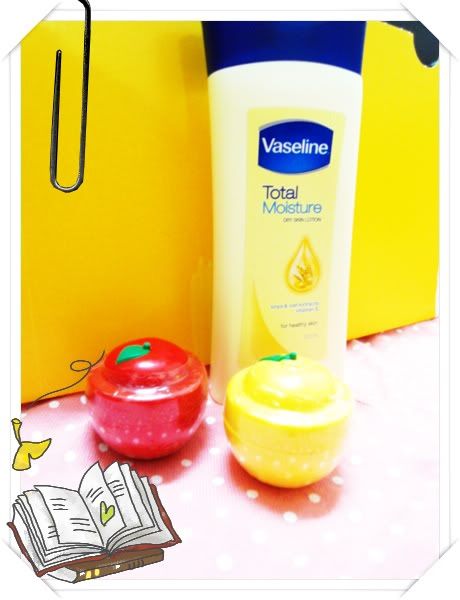 Hope you've enjoyed this post!