I've really abandoned by blog for a loooong time. The whole of last week, my bro & I have been busy playing tour guide to Tiong How, who made his first ever trip to Sarawak! Yay! I hope that we've been able to make it a worthwhile trip for you ^^
Being tour guide made me realise '
hey!
' Miri isn't the unhappening small town I always felt it had been. There were actually a few places and food that I haven't even tried or didn't even know about in this little town. Oh wait, I mean city. I think Sandakan might be worse *cough!*
Now behold for I have complied a small list of inticing food around Miri:
1. Sarawak Black Olives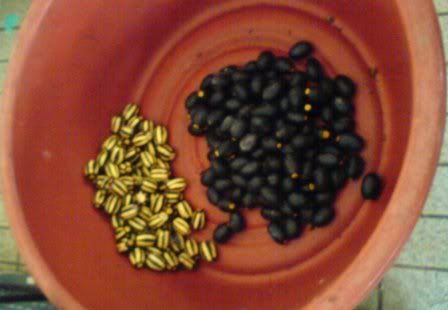 These are olives somehow only found in Miri market, and even Kuching dosen't have it. Its eaten by mixing the olives with black soy and sugar. Has a little funny taste at first for first-timers, even I hated it intially, but it takes getting used to and after a while its pretty OK. Its my mom's favourite dish.
But these olives don't come cheap either, as the price varies from season. It can go as low as RM5 during peak seasons when this fruit is easily found, or when it is off-season it can go as high as RM 14 per kg when the fruit becomes rare.
2. Butter milk Crabs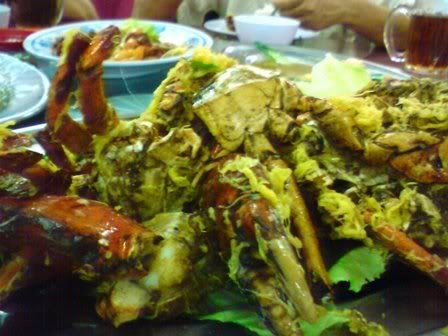 Miri people love their crabs. I personally love buttermilk crabs the best! (or my mom's tomato sauce crab speciality). Order the 'wet' buttermilk instead of the 'dry' for crabs. Crabs fried with the wet buttermilk style has got sauce at the bottom of the dish to dip your crab meat which you have meticulously opened from its shell making it a great reward for your efforts... *slluuuurrrp*
3. Ikan pari-pari Bakar Belacan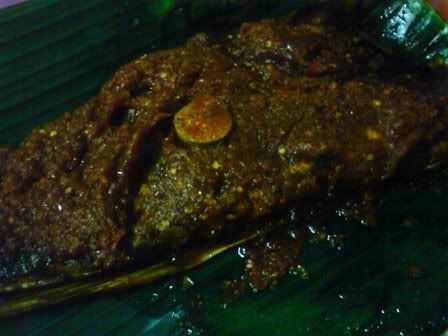 "Ooooh Ikan!". This belacan stingray will make you scream out for more in ecstacy. It can be easily found in Miri's
Saberkas
weekend market every Friday and Saturday without fail as there will be 10 stalls all cooking this very same dish. But everytime you go there you must kau kau wash your hair afterwards coz its bound to smell like you dipped your head in belacan.
4. Kueh Chap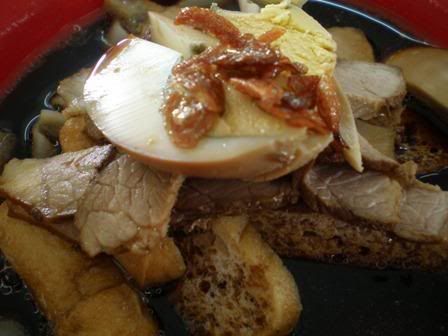 So what's
Kueh Chap
? Many of you may ask. Basically its like the white kueh tiaw, just bigger and longer eaten together with pork innards. I usually just order just the lean meat as I hate the insides. Its mixed with egg and tofu and some secret sauce. The best kueh chap store in Miri definitely has to go to
Hor Poh
at Krokop 3 in Miri. Many mirians will be nodding their heads as I state this.
And lastly but not least our favourite Sarawak noodles!
5. Ko Lo Mee (as the hokkiens call it)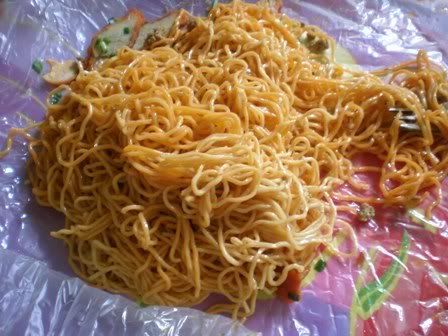 Red ko lo mee first originated from Kuching. Again, sarawak will never be sarawak without its delicious noodles. This is the best red mee I've had so far made as this little store in
Krokop 5
. At only Rm 2 a bowl, it is super worth it!
I hope this makes up for the lack of recent posts lately. Christmas is tomorrow, so beforehand, I would like to wish everyone a very "
MERRY CHRISTMAS!!
" enjoy your holidays guys!
*cereal has gone over to raid Santa's Christmas's sack*