In Korea, a boyband called
SHINee
starred in a new cross-dressing drama called "School of Rock Summer Special".
I haven't actually watched it myself but wow. I've never heard of a WHOLE BOYBAND cross- dress as girls. It really is erm.... something new. Apparently it is a success because korean girls are going wild seeing their favourite boyband in wigs and short skirts.
Though cross-dressing for shows are not something new, they should be completely differentiated from singing Drag Queens cause asian shows tend to only feature the 'pretty boys' that look almost girlish like.
Some loook pretty hot its actually scary!!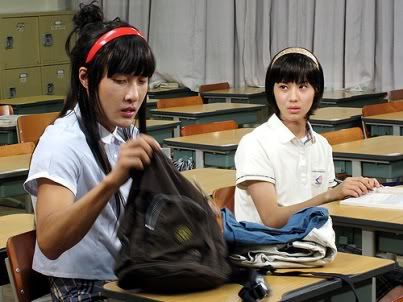 Not surprisingly as well, handsome , delicate featured males dressed as women are also not uncommon in Japan. Akihabara Street in Japan (famous for weird kooky stores & cafes!) opened its very first Maid Cafe.
You're probably thinking "
Like, OMG, who actually wants to go there????!!!!
"
Your answer:
This male waitress is sooo kawaaaiii!! Soo pretty!!

Ok, this male waitress is creepy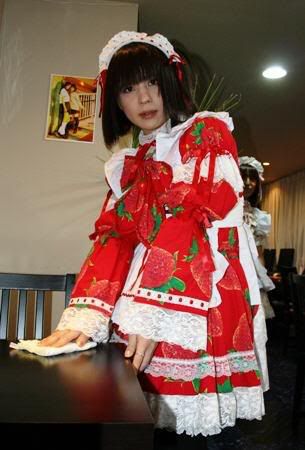 If I was a guy staring up at this man, I think my balls will drop off and run away

"Let's camgigolo together mah babes"

How much more cutesy can you get?

Photo credits,
click here
(yes, you know you like em. there's more from where that came from)
To read more about how the hell did this concept come about
click this
!
The video below is a Japanese host show were the men cross dress as women. Some of the men actually turn out quite beautiful! Until they start talking then it gets pretty weird.
But ladies fret not, Akihabra Street in Japan also houses the very popular Edelstein Café a "boarding school" where long-lashed men dressed in uniform play the part of schoolboys as they go about serving their adoring female customers.