Our last day in Singapore so we went to do some super last minute shopping along
Orchard Road
again.
Ironically I bought most of my stuff on the last day!! I guess coz it there was no time to be hesitant about anymore buys - see-like-OKprice-buy!
I really think that
FarEastPlaza
is still one of the most afforable places to shop in Singapore along Orchard Road. Rest of the stuff is just way to expensive despite the Great Singapore Sale being on.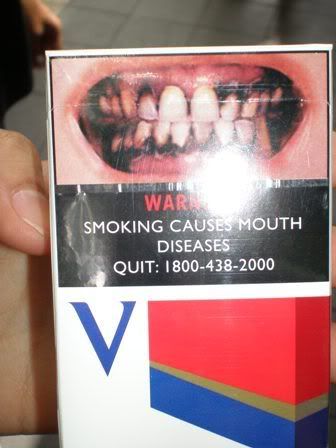 Cigarette packets sold in Singapore are super creepy looking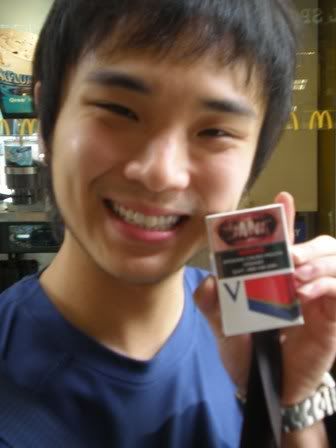 Singapore attempts to teach Zhen a lesson about smoking but apparently to no avail. LOL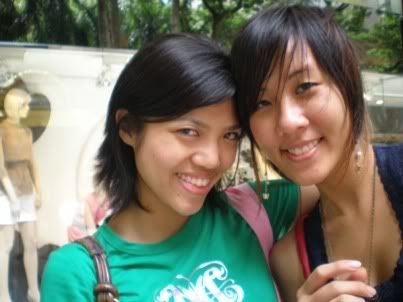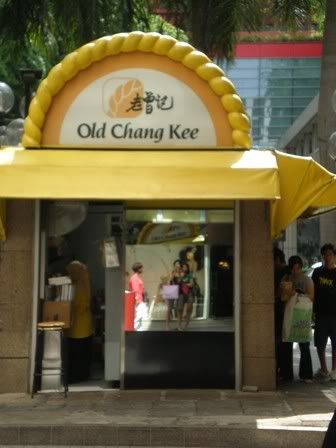 Yam Kuih here is damn nice! Right outside FarEast
Later we headed off to
Bugis Street
- sorta like the Petaling Street we have back in Malaysia except that they do not sell fake branded goods here. Aside from that, everything is the same- small crammed stalls, food everywhere , cheap clothes, smelly aunties, etc.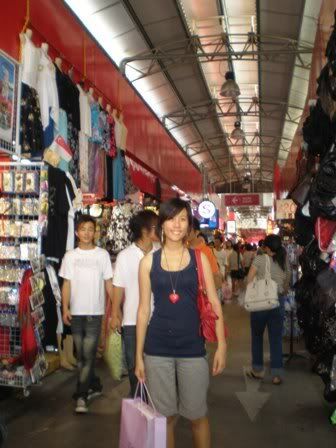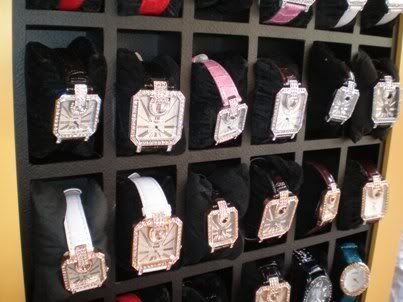 Cheap $5 watches along Bugis Street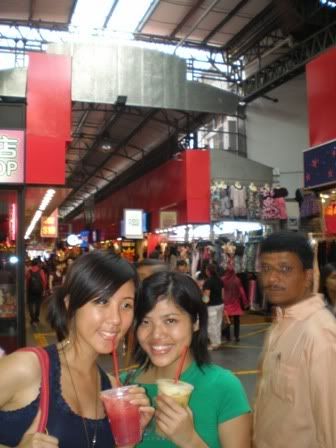 Ohmygawd, who the hell is that in the pic? Act like my peng yao.
Fruit Juices along Bugis Street are very very fresh and surprisingly cheap at only $1 !! I had refreshing watermelon, I think Tracy had starfruit :)
I SAW
XIAXUE
WALKING OUT OF BUGIS STREET!!! But I never took a photo with her. I damn regret it liaw. I didn't dare to coz coming out of Bugis street, my armpits are really smelly and I scared later she will blog about me as "the smelly blogger called Cheryl from Malaysia" for 30 000 eyes to see. OHMYGAWD I THINK I WILL DIE if she does that. LOL!!
TsuMing gave me some great advise of what I should have said when she asked my name but everyone says I should stop dissing the poor woman on my blog. Oh well.....
It was only around 7 did we then start driving back to JB. Traffic back to JB at that time was ABSOLUTE HELL. We moved like 15cm every 15 minutes at the checkpoint. I felt like dying!! I have been holding my phee for like.....2 hours already - it is the most excruciating feeling ever.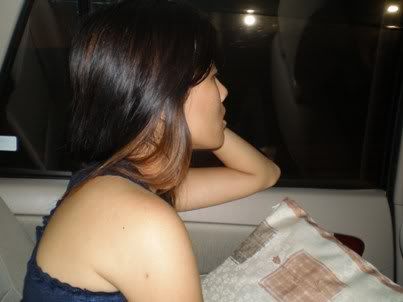 We all got back to JB exhausted. I sat at the back do nothing also tired - ironic isn't it? Mel's Aunty cooked us the mooost delicious bowl of prawn mee soup ever!!! Although we ate in Singapore for the past 4 days but still home cooked food taste the best :3
I miss home cook food! I totally forgot to take a photo of it as I was already to greedy slurping down the whole thing.......was so hungry I had 1& 1/2 bowls.
Lucky Zhen wins another round of massages from Tracy that night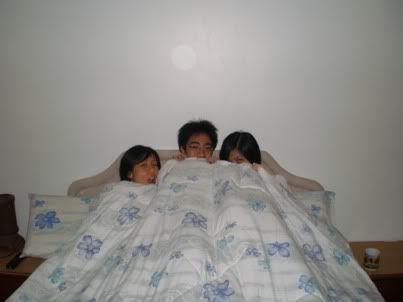 The next day we had an early start back to KL to make it in time for the
Law Dinner
that night. Damn rushed hor all of us?? I had the hugest, blackest eyebags that night.......
Tracy posing with her new cap from S'pore!
I shall end this post by showing all the stuff I bought from Singapore. I underestimated my own shopping ability. I shocked myself coz throughout the whole time in Singapore I really really thought I didn't buy a lot of stuff coz I kept going -expensvie! expensive! expensive!!! hahahahaaha!!!