I trust everyone had a fabulous Christmas and New Year's! Mine certainly was, I had an awesome time with family & close friends, what better way could I ask for to spend the holidays? Even the rainy season seems to be slowing down, there are much less horrid thunderstorms which means more sunshine!!! 2013 is looking a lot better already :)
This post is rather outdated to say the least, because the KOJI make-up event happened last year (I know, many of you have had enough of the ''last year'' and ''next year'' jokes which pop up like mad every year end but I gotta admit I still can't stop making them). It was organized by ViVi Malaysia at Gino Cafe @ Isetan KLCC.
My bestie JoJo & I bought tickets to go to the KOJI event for RM60 sometime in December. Just a bit of background,
KOJI
is a famous company in Japan for producing make-up & skin care products. They are particularly famous for their ''
Dolly Wink
'' make-up brand series produced by Tsubasa Masuwaka.
You can check out her very very cute promotional video here :
They are also affiliated with SANA for their "
Pore Putty
"series which is slowly gaining its popularity as well!
(oops, I had to take this off
helloemy's
blog because I forgot to take photos of these products during the event. Too careless! >_<) This product by the way, is FABULOUS. It covers pores like smooth porcelain!! I was so impressed!!!!
Moving on, we were pleasantly surprised to find so much KOJI make up samples at our table!
JoJo & I in light make up before the event. A lot of girls came without make up which I think is a lot better as you get to really fully utilize the samples they give, but I'm just not that confident to walk out of the house completely bare-faced!!
We were completely spoilt for choice so there was just waaaaaaaayy too much stuff for me to review individually. I'm just going to post up a whole bunch of pictures and explain about the ones that I love that I sampled in the short time I was there.
This is the Dolly Wink Highlighter. I love love love their packaging, however I don't think this one is worth buying as you can easily get the exact same colour and effect with your normal silver/glittery eyeshadow.
The make-up artist at the event introduced us to a few new items by Dolly Wink, particularly this lovely shade of brown neutral eyeshadow tones (Colour Palette 01).
Pigmentation is lovely, and it stays on really well on my oily lids, even though I did not apply any primer on that day. There's another pic below to see later.
Another new eyelash addition to the Dolly Wink family (No.15) ! These are ''half'' lashes, and apparently we are suppose to apply them starting from the ends first and slowly work our way towards the middle of your eyes. With full length lashes, always start from the inner corner of your eyes first and slowly work your way towards the outer corners of your eyes.
Super nice & subtle! I'd really recommend these for first-timers who feel full lengthed lashes are just too over-the-top.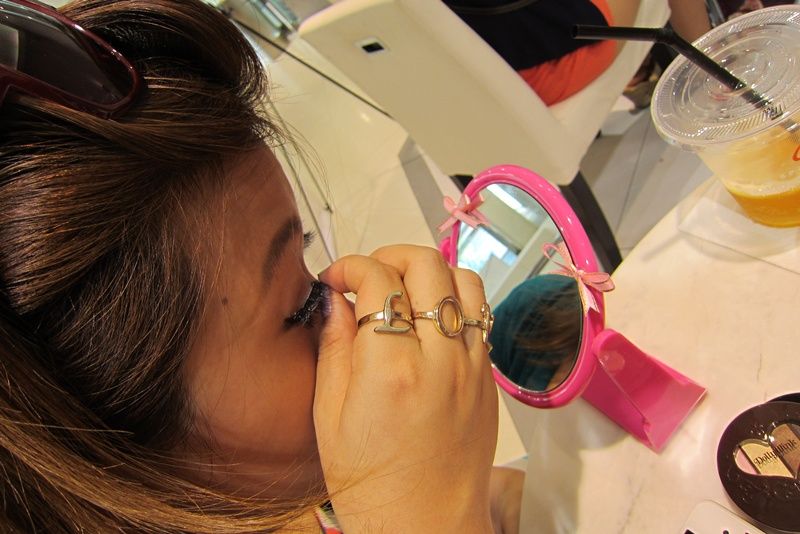 Our completed makeover!
I must say, paying top dollar for your falsies really do make a difference. Admittedly, RM55.90 is a hefty price for 2 pairs of false lashes, but trust me I've been using RM5 a pair for falsies and they don't feel anywhere near as comfortable as these do!!!! In addition, with the proper care these falsies can be reused for up to 4-5 times compared with those rows of cheapo lashes that can probably only last up to 2 uses.
But am I tempted to purchase these lashes? Well.. to be honest, despite being very very beautiful and comfortable to wear, there still aren't really worth the money unless to say they go on sale for less than RM45. I understand though that these lashes are expensive even in Japan where they originally are from, so my advice is if you can afford the splurge, please go ahead!!
Sorry, I know the post wasn't very properly done but I got so tired after filtering the photos and arranging them. Maybe that should be a new year's resolution for me: Stop procrastinating! Start writing more! Be more hardoworking at posting on my blog!! But before I break them, I hope you guys have an absolutely crazy new year!!!