I've just added a small section to the right called ''my skin type'', which is basically the gist of my skin condition at the moment. It will help facilitate readers so that they will know what sort of products may or may not suit their skin. Like they say, what's great for me may not exactly work for you!
Back to Kate liquid brown eyeliner (such a mouthful), I bought this a few weeks ago on discount, think I got it for about RM36.90 maybe? It still is a wee bit pricey but I've been desperately looking for a brown liquid liner. I'm trying to cut down on using pencil liners as I'm afraid of tugging at the skin area near my eyes. Liquids are just so much more gentle.
I really don't get why in the world did they create such an elongated bottle when you only dip such a tiny part of the brush into the liquid? Makes more sense to have the bloody thing pear-shaped to be more use-efficient. But anyways, I'm getting besides the point.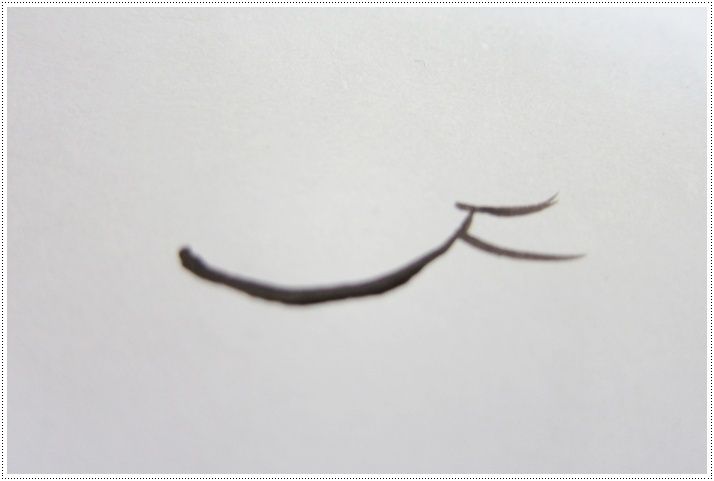 Kate liquid liner
This liner is definitely NOT for beginners! You'll need a steady hand for this one and it tends to get a blotchy if you've not applied pressure evenly such as the pic above.
Colour wise, I'm pretty happy with it. I like that its dark brown to the point its almost black and yet at the same time, it does not create the harsh outline that black liner usually has (coz most of the time, I just use eyeliner without any eyeshadow).
Some basic details:
Waterproof :
Nope.
Long Lasting:
Yes. last all day, even when I sweat. Oddly enough, its pretty shit when I go swimming though
Brush:
Gentle and pretty sharp, which makes it pretty accurate for drawing as long as you can control your hand pressure.
Overall, Kate liquid eyeliner stands out a strong
stars out of 5!