Been meaning to try out this place for quite a while cuz I heard they had pretty fantastic burgers.
We had to go to Oxford to try it out coz Reading is lame and doesn't have any branches there :(
Thank God we went early though at 6pm cuz the whole place was freakin packed by 7! Even the whole time we were eating inside there was a long line of people already forming outside the shop. You must be really really crazy for the burger to queue in the cold. Furthermore, it was -1 the whole day.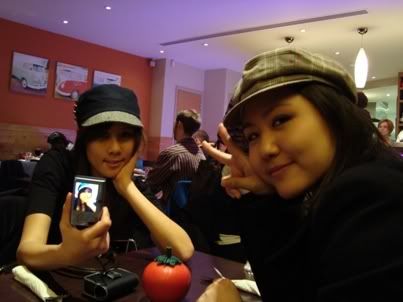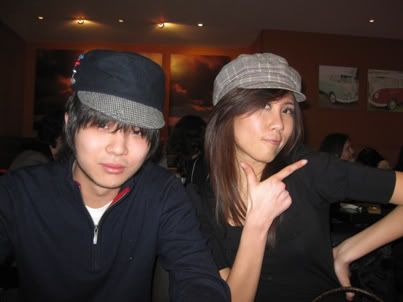 I *heart* my new cap.

Tomato in a Tomato!!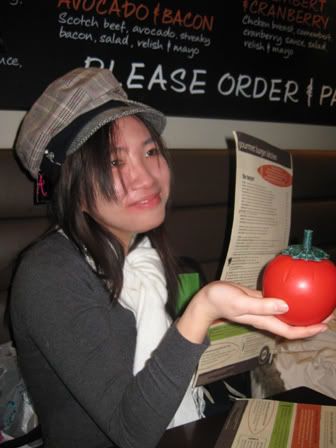 Sam trying to be funny. LOL!

My Burger. I just remember it had cheese, beef & cranberry sauce. Delish! I enjoyed mine the most

Closer up view of my burger. For memories k? So I can see clearly wut each layer is

Sam was being adventerous and tried out the "satay chicken". Which turned out OK

Suwen's was beef, bacon and goucamole.

I forgot to take a pic of Zhen's burger but he didn't really like it. Its mostly my fault coz I he wanted something slightly spicy. I told him to try the Cajun Burger stating 'ah, people here can't take their chili!!!'
which turned out to be the most ultimate mistake ever. Zhen was tearing and mucus-ing the whole time. *shy*
But I wasn't sorry enough to exchange burgers coz I loved mine to much. LOL! I'm SO SORRY!!!!!
Neeways, as you've all seen this post is called 'meat dedication'.
And why's that?
Because the girls I cook with (the only same few girls you always see on my blog!) are going on an all vege-dinner diet. For, get this, a week. T_T. The fridge is packed full of spinach, brocolli, pak choy, ladies' fingers, brinjal, etc.
It was a 3-1 decision. (Me being dissenting judgment).
It is particularly stressfull for me as I'm a huge meat fan. To be honest, I don't mind having some meals without meat. But... but... you know when someone tells you 'You cannot eat (insert food name) for 2 weeks." Even if you usually don't mind not eating it for a few days you will particularly crave it extra much when someone says you can't eat it!!
The girls are saying the vege-diet will be for our own good. I wonder how long I can last? :P