I've always been crazy about anything Japanese.
I buy loads of
ViVi
mags, and i'm starting to go crazy over everything that's cute and beautiful. I've even started to bling most of my gadgets! not yet hardcore thought but imma getting there...
Bleh. Now most of the gems have fallen out. Coz I don't use super glue, still damn sayang my phone.

You should see it when I 'start' the camera. When the circular lenses eject out its fuckin gorgeous!!

Guess what? Its my compact powder case!

But this one I kau kau cheat. I bought a ready-made set base, i.e all the hearts,crytals and pearls have all been readily arranged on this sticky sheet of paper. I just cut it out and smack it nicely on my compact case :D
(totally irrelevant with this post but I just wanna show off my uber cute new bedsheet! *loves*)
But I'm kinda bored of diamond blings. Like yea, they are nice but not really outstanding anymore since every single girl is now doing it. I'm now trying to search for....foodie bling!!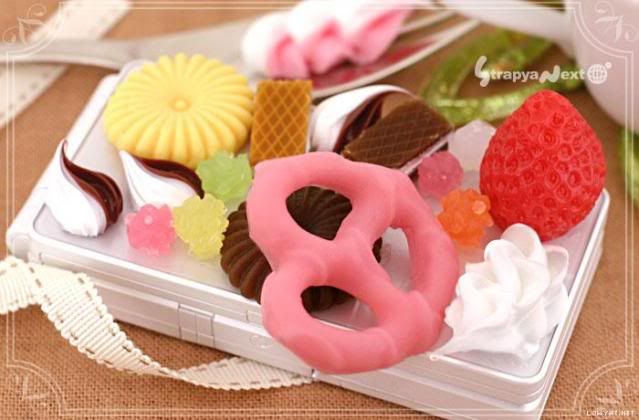 Looks like a lovely deceiving entree of gorgeous marzipans until......

Tadah! Compact case!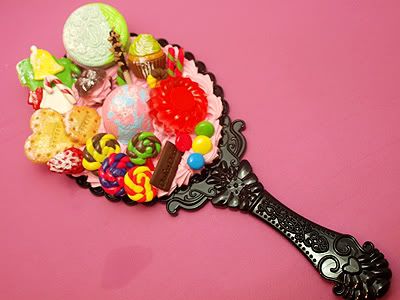 Seriously hor it makes you wanna gobble down all your stuff >_< href="http://dolce-deco.com/">http://dolce-deco.com/
The thing about all these weird deco stuff is that it is seriously TOO HARD to find them in Malaysia. Only can find them online or at CheeChongKai street which is a bitch because shops there are really really messy :(