Since you all have been such loyal readers I am putting up two posts in one night. Gung ho!!!
This post is dedicated to
Zhen

&

Mel
.
It even has a nice together ring to it, dosen't it boys? LOL!!!!! Kidding kidding. This is just to thank them for coming up with all the driving and creative juices of places to go to eat!!!
Spent quite a lot these past few days but it was all worth it, trying out the food around KL before we all head off to UK. Ohmygawd, I never realised I've been missing out on so much these past 3 years I've been here!!! Why have I been wasting my life?????
Discovered Uncle Ho's Fine Dining. If not for Zhen, I don't think I would have ever bothered to try this place. Apparently the pastas there are very nice, so all four of us ended up ordering pasta.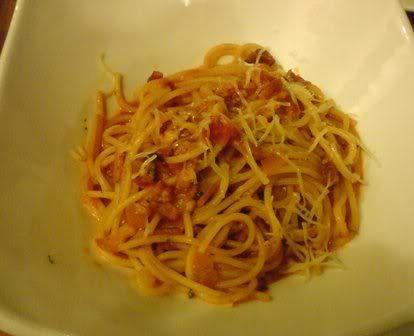 My pasta. Pasta Amar-yakity-yak. Slices of tomato, cheese, pork, and other italian herbs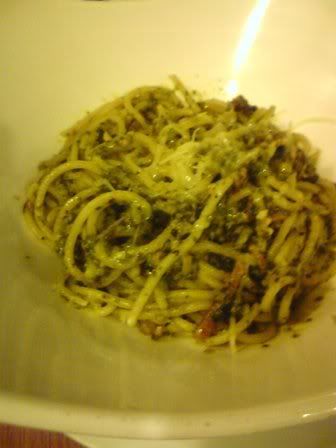 Aglio Olio Pasta. Apparently their signature dish. Made of (disgusting)parsley. Ok, its just me. I hate parsley... But this is Zhen's & Mel's Dish and they loved it.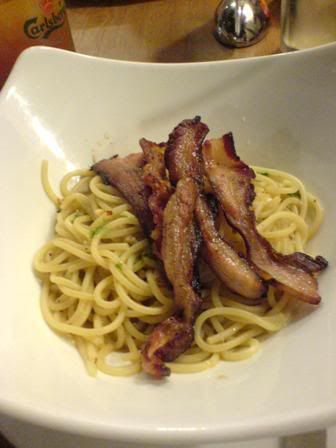 Spagetthi with bacon strips. Kinda nice too. Everyone's pasta was surprisingly very different in taste.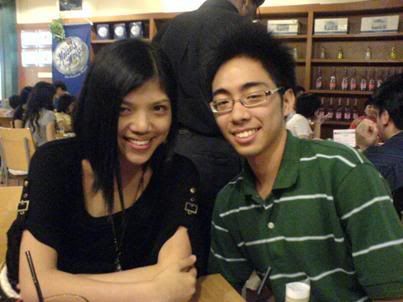 The next week Zhen suggested we go
Petaling Street
to shop & eat. But petaling street is only happening at night, so we stopped by Sg.Wang to shop and snack first.
I finally got to try
Zang Toi's
very famous
banana

chocolate

fudge cake

with

vanilla

icecream
. Even the name is such a mouthfull. Tracy's sister recommended this a really long time ago but I never got around to tasting it.
Zhen drink (behind) - can't remember the name, but it was uber refreshing!! Mixed fruit juices with lime.
Look at all that oozing chocolate!!! The food looks as good, if not better than the pic!!! The cake was absolute heaven!!! Having it with vanilla ice cream was perfect with the cake from preventing it from being too sickly sweet.
After that very light snack, it was finally evening and we went to petaling street for some more food and shopping!!! I had to stop by to get my favourite drink, Air Mata Kucing - basically longan with... erm... I dunno. Some black drink. Dosen't look that great but its de-li-cious!

Air Mata Kucing

The apparently very famous Hokkien Mee. Found it OK only coz I am not that big a fan of Hokkien Mee myself anyways.



Mel could not make up his mind which fake *cough*[insert football team] *cough* shirt he wanted to buy. All the black shirts he looked just like all the other black shirts we had seen in the past 10 stores. Talk about perfectionist!!!!!! Mel ended up not buying anything, dissatisfied with the quality of fake products......
a classic "Za Dou" moment.HAHAHAHAAHA!!!
Later we girls said it was still a little to early to go home, at the time it was only 9.30pm. So Tracy recommended this place in Damansara Jaya called the "
Mage Cafe
" to yamca.
This store is soooooooooooo cooooll. It makes board games fun. Seriously!! It does not have the normal boring bunch of board games like Monopoly, Snakes & Ladders or Chess. All their board games are so funky!! I have no idea where they get them. Think of this place as a cool place to hang out, chat, drink & eat, and play board games with friends the whole day.
The ambience there is nice, not too overcrowded with tables and chairs as its main purpose is not to serve food
.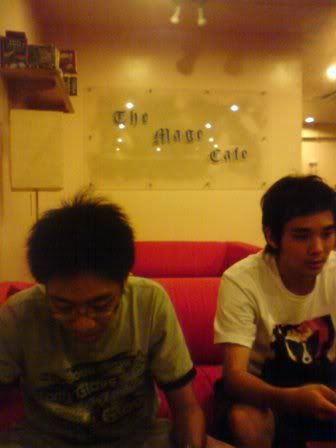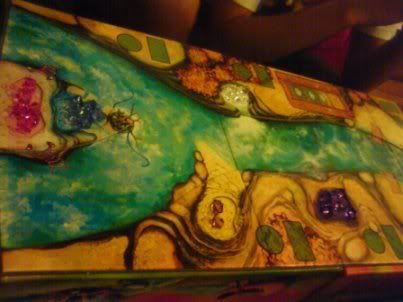 Canoe adventure board game. Unique :P (inside joke: I AM A PIRATE!! )
Played this game called
Taboo!!!
for the first time. We kept laughing and laughing the whole way trying to guess what object or action the speaker was trying to describe WITHOUT saying the key words. For eg. The card revealed only to the speaker will say "describe the word "birthday" without saying: candles, cake, party, age, presents."
Damn tough I tell ya.
And amazingly funny to see the extend the speaker will go through to describe birthday without saying the key words. LOL!!
I love you people!! thanks for a great time out. :P