Yea I know damn stupid probably no one has ever reviewed instant noodles for free when there is no contest/moolah being paid.
But its just that, I never knew there was such a thing as instant shrimp wanton nooodle!!
How awsome is that!! I saw it in Carrefour the other day and me being a big fan of all things instant I bought it.
Looks like normal shrimp noodles!! Just frozen!!

Only after I bought it then I read the instructions at the back say need to microwave. wttf. I forgot I got no microwave. So just throw the whole thing into a pot of hot water. Neeh!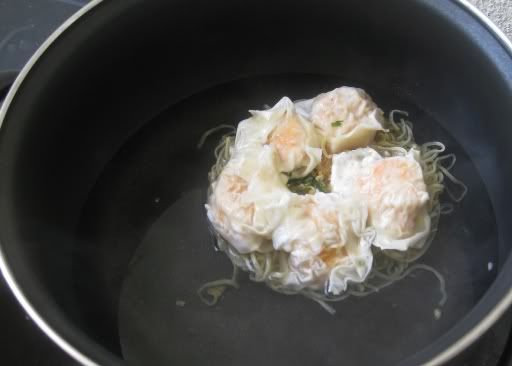 Ok la, it looks a bit gross coz I put too much water. But not you eat also. LOL.
Actually I forgot to take a pic of the wanton prawns coz that's the most nicest bit!! It tasted almost like fresh prawns! So fat & juicy summore, I love it when I bite into prawns and all that goey oil-juice thing comes out. Yum!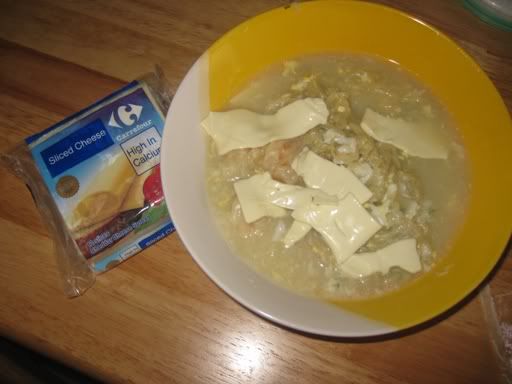 Then I threw in cheese.
I know i know, instant noodles and cheese?
But actually turned out pretty good!
But word of caution, you must really really love cheese. Otherwise hor, it gets pretty sickening near the end.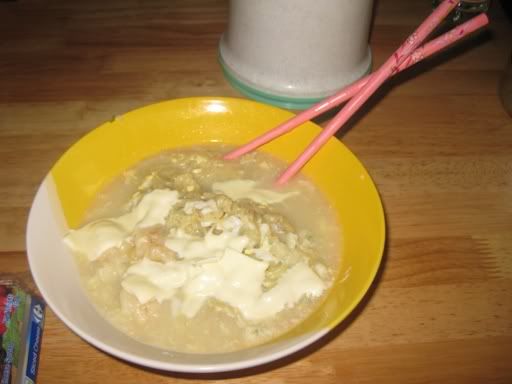 I just wanna show off my new pink chopsticks. Before I bought them, Debbie was asking me "Eh better not buy, I'm scared later the paint will chip off the chopsticks, and I'd be kinda poisonous"

Me: That's true. But then again, nowadays I always eat out and everything is really unhealthy or poisonous anyways, what's eating a bit of paint.

Debbie: Good point. Just get those cute pink chopsticks.